Due to the rapid growth and overwhelming success of Uncle Nearest Premium Whiskey, expanding from one state to all 50 states and 12 countries within the first two years, as well as becoming the most award-winning American whiskey (which, of course, includes bourbon) of 2019 and 2020, many have speculated our company is owned by one of the big guys. But as our owner, Fawn Weaver, loves to say, "The only 'big guy' behind this brand is my 6' 4" husband, Keith."
Uncle Nearest Premium Whiskey and Nearest Green Distillery are owned by Uncle Nearest, Inc. Uncle Nearest, Inc. is owned by Grant Sidney, Inc. Grant Sidney, Inc. is wholly owned by Fawn Weaver.
MORE ABOUT OUR FOUNDER AND CEO, FAWN WEAVER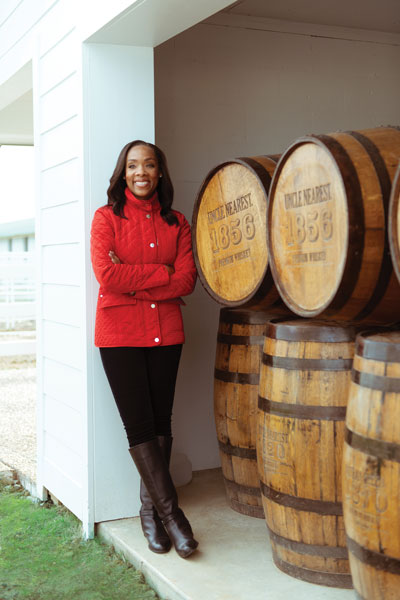 Fawn Weaver has been a serial entrepreneur for more than 25 years. As the CEO and founder of Grant Sidney, Inc. (GSI), a privately held investment company, Weaver has often been active in her investments, serving in leadership capacities behind the scenes. Weaver is a popular TED speaker, as well as a USA Today and New York Times bestselling author who has appeared on 100s of popular radio, morning and television talk shows across the US, including FOX Business, the TODAY Show, New York Times, CBS This Morning, Good Morning America, CNBC, Fast Company, Oprah Magazine, Los Angeles Times and the Chicago Tribune. She is a regular contributor to Inc. Magazine and has been interviewed by top shows in Canada, United Kingdom, South Africa, Italy, Belgium, Australia, Ireland, Australia, Poland, Spain and New Zealand on topics ranging from accelerating growth in business without losing your soul to creating a happy balance between work and family.
Weaver serves as the CEO of Uncle Nearest Premium Whiskey, a company she founded in 2016, which sits under the Grant Sidney umbrella. Uncle Nearest Premium Whiskey is the fastest-growing American whiskey brand in U.S. history, the best-selling African American founded spirit brand of all time, and was the most award-winning American whiskey (including bourbon) of 2019 and 2020, earning World's Best by Whisky Magazine two years in a row, as well as the industry coveted Double Gold by San Francisco World Spirits Competition and Wine Enthusiast's Spirit Brand of the Year for 2020. To-date, Uncle Nearest is the Most Awarded American Whiskey of 2021, with the next closest brand being a very distant second.
In March 2021, Weaver was named to the Endeavor Group Holdings board of directors, alongside Elon Musk. She was simultaneously appointed to serve on its audit committee. Endeavor, the parent company of UFC, WME and IMG, is a publicly-traded entertainment and content company listed on the NYSE and valued at $10 billion. Weaver is a member of the Young Presidents Organization (YPO), a global leadership community of 29,000 of the most successful young CEOs in the world, contributing $9 trillion USD in annual revenue.
Weaver launched her first company, a public relations and special events firm, in 1996. In addition to her firm, from 1998-2003, she served as Partner and Business Manager for G. Garvin's LLC, operator of G. Garvin's Restaurant (named one of the Top 10 New Restaurants by Los Angeles Magazine). Weaver developed the business plan, secured development and operational funding, and was business manager for the first four years.
Taking a six-year break from entrepreneurialism, to learn what it was like to be the employee rather than the employer, Weaver held a variety of positions in the hospitality sector. She worked as the head of special events and catering for the world-famous Viceroy Hotels and as a General Manager for Dimension Development Co., the operator of more than 50 Marriott and Hilton brand hotels throughout the US. The experience profoundly changed how Weaver invests and manages, focusing on a team-first organization in which she often serves as Chief Encouragement Officer, above all else.
Weaver is the founder of the Nearest Green Foundation, a 501(c)(3) non-profit organization that offers full scholarships to every descendant of Nearest Green, the world's first known African-American master distiller. Through their Operation Brother's Keeper initiative, the Foundation supplied more than 300,000 N-95 and cloth masks to workers on the frontline and people in disadvantaged communities during the COVID-19 pandemic. In 2020, in response to the BLM movement, the Foundation formed an alliance with Jack Daniel Distillery to create the Nearest and Jack Advancement Initiative, to elevate people of color within the American whiskey industry and to greatly increase diversity in the spirits industry overall. She formerly served on the executive boards of MEND Poverty and Slavery No More.