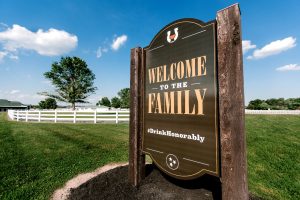 HOW TO OBTAIN AN INVITATION
Our Legacy Tour was created to give bartenders, food and beverage directors, distributor partners, and spirits influencers a behind-the-scenes tour like no other. Our Brand Stewards and Market Managers invite those they've encountered in the field who embody the spirit of Nearest Green—full of love, honor, respect and service. This tour provides an in-depth opportunity to experience the history behind the Uncle Nearest brand as well as the incredible legacy being built by our team today. Please reach out to your local Uncle Nearest team member for more information on upcoming tour opportunities.
WHAT DOES THE LEGACY TOUR INCLUDE?
Welcome Dinner and Accommodations in Nashville, TN
Join us in Nashville, TN for a welcome dinner at one of the city's fantastic dining venues and then take the opportunity to explore some of what Music City has to offer.
Dan Call Farm
Our tours begin at the home on our original bottles, the Dan Call Farmhouse on the 313-acre property where Nearest made Tennessee Whiskey at the soon-to-be well-known Distillery No. 7 in district number four. In the early 1870s, the IRS redrew the lines and Distillery No. 7 in district four became distillery number sixteen in district five. This caused a great deal of confusion for whiskey lovers who'd long enjoyed the good stuff coming out of the hollow in the hills above Lynchburg. Distillery No. 7, where Nearest Green was the master distiller, would officially begin operating under its new number for government purposes, but not to the public. To them, it would always be known by its original number. You will visit the location where the original distillery stood and taste the natural spring water that has never ceased flowing since Nearest's days there.
Highview Cemetery/Lynchburg Cemetery
No trip to Lynchburg is complete until we pay homage to Nearest Green at Highview Cemetery, as well as his most famous pupil at the cemetery directly across the street.
Barrel House BBQ II at Nearest Green Distillery
For lunch we head to our home in Shelbyville, Nearest Green Distillery, where you will be treated to a mouth-watering meal at the second location of Tennessee's #1 BBQ venue, Barrel House BBQ. Voted #1 Grilled Cheese in TN by Yelp and Buzzfeed.
Nearest Green Distillery at Sand Creek Farms
Welcome to our home. The culmination of our Legacy Tour is Nearest Green Distillery, named after the world's first-known African American master distiller. Situated on a famous, 323-acre Tennessee Walking Horse farm, Nearest Green Distillery is the world's first distillery to commemorate an African American. Dubbed as "Malt Disney World," and named by Travel + Leisure as a "true whiskey destination," the 323-acre property in Shelbyville, Tenn., has become known as a full-blown destination for whiskey lovers, history enthusiasts, and families. It is a master class in storytelling and history-making,
EXPERIENCES AT THE DISTILLERY INCLUDE:
Welcome Center

Where visitors will learn the history of the three things Tennessee is most known for: Tennessee Whiskey, Tennessee walking horses and Tennessee music

Concession Stand

That features snacks available around the world, but which originated in Tennessee

Philo + Frank's

The world's first non-alcoholic speakeasy

Chuck's Barrel House BBQ

Home of the famous "Grilled Cheese on Crack" at Chuck Baker of BBQ Pitmasters' second restaurant, and the first location outside of Lynchburg, Tennessee

Humble Baron

Home to the World's Longest Bar, cocktails by Death and Co. and cuisine by Chef Jerry Garvin

#WhatLiftsYou Angel Wings

Mural by famed muralist Kelsey Montague

Family Tasting Room

Where visitors can receive a guided tasting of Uncle Nearest's portfolio of aged whiskeys

Master Blender House

Where Victoria Eady Butler, our 4-time Master Blender of the Year, blends Uncle Nearest's award-winning whiskeys

Single Barrel Warehouse

Where the rarest of Uncle Nearest's whiskey ages before being bottled

Bottling House

Where our bottles are labeled to be sold in the Welcome Center

Still House
At Nearest Green Distillery, visitors can purchase Uncle Nearest's flagship whiskeys as well as exclusive bottles such as the award-winning Uncle Nearest Master Blender Edition Whiskey and Uncle Nearest Uncut/Unfiltered Straight Rye Whiskey.
Sample Itinerary:
Day One:
Arrivals/ Hotel Check-in
7:30pm- Welcome Dinner and drinks
Day Two:
9:00am – Depart hotel
10:30am – Arrive at Dan Call Farm in Lynchburg
12:30pm – Lunch at Nearest Green Distillery
1:30pm – Tour at Nearest Green Distillery
3:30pm – Departure for airport
5:00pm-5:30pm – drop at airport
WE CAN'T WAIT TO WELCOME YOU!