Cigars & Whiskey Live!
December 10, 2020 @ 8:00 pm

-

9:00 pm

EST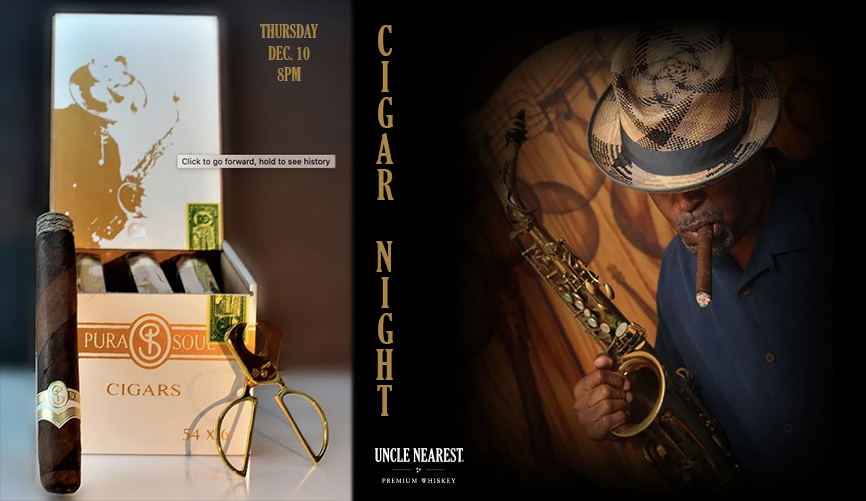 Join hosts, Jay, Sailor and Cigar Mike for CIGARS & WHISKEY LIVE featuring Robert Wright of Pura SoulCigars. Mr. Wright is student of the tobacco process from crop to shop. He's made numerous visits to various farms and cigar factories in Honduras, Dominican Republic and Nicaragua. He's taken all of these experiences and incorporated them into one concept that defines his blend.
Mr. Wright is also a talented musician who uses the same passion, dedication and respect that he has for music that he's now applying to his cigar line, Pura Soul. He's been playing the saxophones for over 40 years of his life. He finds joy in collaborating with other talented musicians and playing at concerts and other events.
The featured cocktail of the night will be the PURA SOUL-ZERAC, our take on the classic Vieux Carre, paired with Pura Soul's "Barber Pole" Cigar. If cocktails aren't your thing, grab your bottle of 1856 as we taste our flagship whiskey served neat paired with the "Barber Pole" cigar. Cheers!
TUNE IN LIVE Thursday, Dec 10th at 5pm PST/ 8pm EST on FACEBOOK AND YOUTUBE!
PURA SOUL-ZERAC (riff off the classic Vieux Carre)
2 oz Uncle Nearest 1856
1 oz orange and herb syrup
3 dashes Peychaud's bitters
Absinthe rinse
DIRECTIONS: Stir whiskey, syrup and bitters with ice. Rinse your drinking glass with Absinthe, then strain cocktail over a king cube. Garnish with an orange twist