COCKTAIL HOUR LIVE with Uncle Nearest Master Blender Victoria E. Butler!
January 21 @ 8:00 pm

-

9:00 pm

EST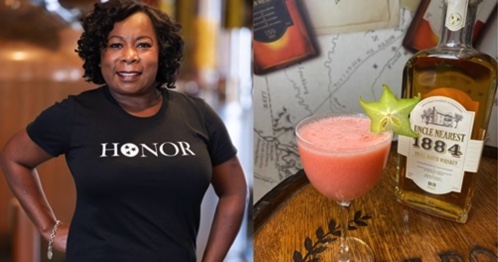 Join us once again for an evening of Uncle Nearest cocktails with our Master Blender Victoria Eady Butler, Jay Madison and Sailor Guevara.
Victoria will walk us through two beautiful cocktails.
TUNE IN LIVE 1/21/21 AT 8PM EST ON FACEBOOK AND YOUTUBE!
*PINK GODDESS*
We were looking to create something that lived somewhere between the classics, "Pink Lady" and the "Pink Squirrel. This cocktail pays homage to our new Vice President, Kamala Harris, a member of Alpha Kappa Alpha Sorority, Inc. Their signature colors are salmon pink and apple green.
She has such an amazing heritage, and wished to tie these together. One common thread with both Jamaican and Indian cuisine is coconut so we wanted to have it represented in this cocktail.
Our new Vice President's middle name is Devi, which translates to "The Goddess," which is certainly befitting.
PINK GODDESS
1.5 oz. Uncle Nearest 1884
1.5 oz. Gugen Coconut Milk w/ pineapple
.25 oz. Tempus Fugit Creme de Cacao
.25 oz. grenadine
Method: Hard shake & strain
Glassware: Nick & Nora
Garnish: starfruit
Also, Victoria will make *Uncle's Garden* which was featured in our 2020 Cocktail Calendar, created by Khadka Anjan of the Hyatt in Tokyo.
1.5 oz. Uncle Nearest 1856
1/2 oz St Germaine
1.5 oz. ml pineapple juice
1 egg white
Method: Combine all ingredients into a dry cocktail shaker and shake for 20 seconds, add ice, shake again for another 20 seconds, then strain.
Glassware: Coupe
Garnish: pineapple leaf or edible flowers
Make these cocktails along with us or grab your favorite expression of Uncle Nearest and join the fun!